Mallala Motorsport Park Ride Days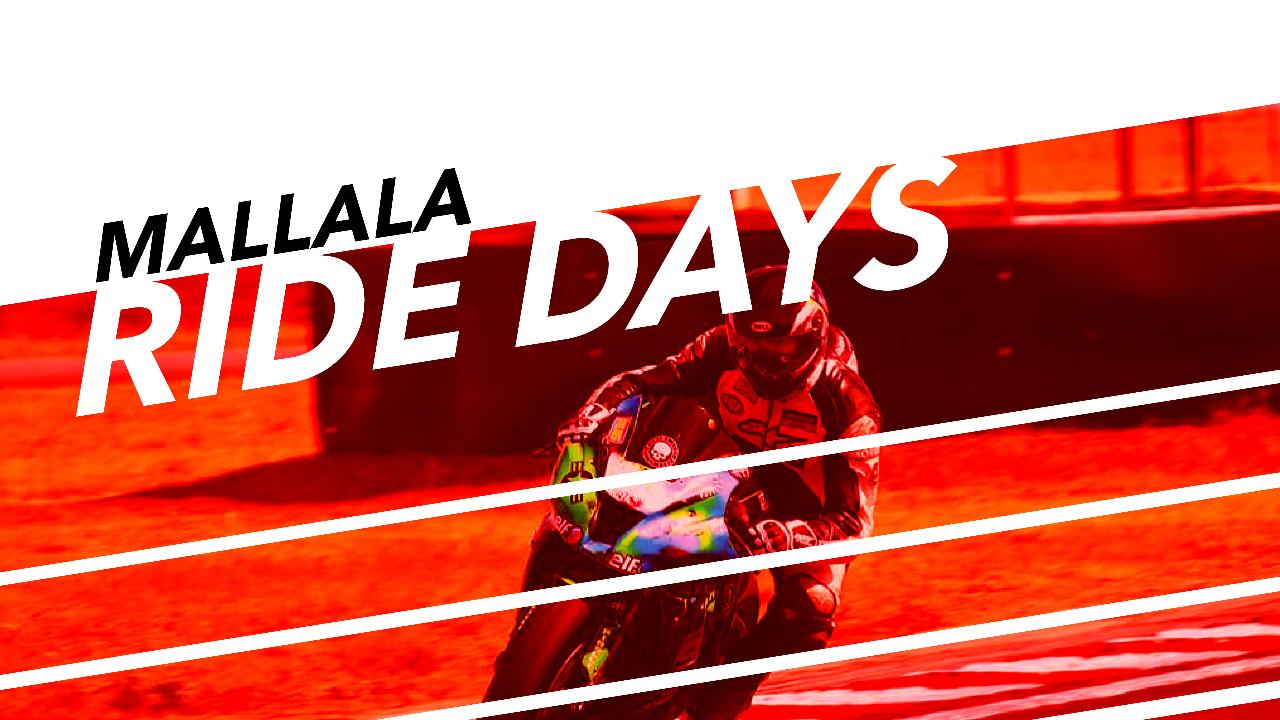 Varighed: 1 Dage (Ca.)
Sted: Mallala, South Australia
Produkt kode: PRNLVW
Experience the thrill of Mallala Motorsport Park first-hand on your own two wheels!
EVENT DETAILS
Prices are per rider.
Riders must have a Motorcycling Australia licence. Day licences are available via Ridernet - these are mandatory if you do not already have a Motorcycling Australia licence.
Strictly ONE bike per garage.
Bikes must be fit for purpose;
- Check the operation of your brakes, suspension and levers.
- Bikes can have road tyres with legal tread or slicks
- Tape up all glass (e.g. lights and mirrors) or remove
- Check there are no obvious fluid leaks.
- Check there are no loose panels, bolts or clips.
- Check the chain for correct tension.
- You must have a good ADR approved full face helmet
- You will need to have full leathers. If two piece, they must zip together
- Gloves that cover all skin
- Leather boots that cover all skin
- Long hair must be secured, use a hair net, balaclava or beanie to keep it tucked in.
- A back protector is recommended to prevent spinal injury.
- No helmet cameras or timing are permissible at ride days.
Ride days will not be affected by weather conditions & will proceed unless unsafe. In the unlikely event that we cancel or postpone an event we will contact you as soon as possible.
Premium 98, E85 and ELF 102 race fuel is available on site.
COST
Entry Fee - $200. Optional garage additional $30. Late fee for entries on the day $25.

Entries will close 48 hours prior to the scheduled event track time start (normally 9am), unless sold out prior.

A detailed email will be sent to each registered participant following the close of entries.

*Mallala Motorsport Park reserve the right to cancel events where minimum operating numbers are not met.
GROUPS
Groups are based on speed & experience. Please ensure you select the appropriate group.
Groups are flexible; if you get quicker through the day, or if you get tired and slow down, you can move up or down a group (based on availability).
For rider safety, the number of riders in each group is limited.
YELLOW Group: Beginner Riders. Laptimes over 1.35. Passing allowed on OUTSIDE ONLY.
GREEN Group: Intermediate Riders. Laptimes between 1.24–1.34. Passing allowed on OUTSIDE ONLY
BLUE Group: Advanced Riders. Laptimes between 1.16–1.23. Passing allowed ANYWHERE.
RED Group: RACE Riders. Laptimes under 1.16. Passing allowed ANYWHERE.
*A minimum number of 10 entrants needs to be pre-registered prior to online entries closing. If numbers are not met, we will notify participants to process refunds or move to a suitable date.
**Mallala Motorsport Park reserves the right to combine groups where necessary & safe to do so, to ensure minimum numbers are met.

SCHEDULE
5 x 20 minute sessions
Gates Open: 8am
Sign On: 8am - 8.30am
Drivers Briefing: 8.30am
Track Time: 9am - 12pm
Lunch Break: 12pm - 1pm
Track Time: 1pm - 4pm
*Indicative only. Schedule subject to change based on bookings/groups. Please refer to the schedule you will be emailed prior to the day.

FOOD & BEVERAGES
Onsite canteen is available for food & beverage purchases.
ARRIVE AND RIDE - Entry fee on the day $225, plus garage if required.
You may choose to 'arrive & ride' on the day – pending availability. Entry fee on the day will be $225. Strictly Eftpos only - no cash.
If you do choose this option, you are required to arrive during the allocated sign on time & attend the drivers briefing. No entries will be accepted after this time.
Please contact us to confirm availability prior to arriving.
CANCELLATIONS OR DATE CHANGES
Cancellations must be advised at least 5 business days prior to your booked event.
A transfer to another date on our Track Day calendar at the time of cancellation is available, alternatively, you can choose a voucher to use for rebooking within 6 months.
Withdrawals inside five (5) business days prior to an event will forfeit the full entry/garage fee.
Refunds for non-attendance are not available.
THESE ARE NOT RACE DAYS – respect those around you, ride safe and have fun!
By clicking Book Now, you agree to the Terms and Conditions.